Hours of business
Monday – Friday 9am to 8pm     ( from June 1 10am to 7pm Monday to Wednesday, 8pm Thursday and Friday )
Saturday – 9am to 6pm
Sunday – 10am to 5pm              ( from June 1 11am to 5pm )
Statutory Holidays – 12pm to 5pm
Closed: Victoria Day, Canada Day, Civic Holiday, Labor Day, Thanksgiving, Christmas Day, Boxing Day and New Year Day.
Xmas Eve & New Year Eve are early closed at 3:00 PM.
Store personnel
Store manager – Scott
Sales Associate – Kylan
This location sells
KEEN
Canada West  ( Made in Canada )
Red Wing
LEGACY BOOTS by Red Wing "HERITAGE, Wm Moorby and Wolverine 1000 Mile COLLECTIONS
Carhartt (always at the best prices)
Blundstones
Wolverine
Wolverine 1000 Mile
VIBERG ( Reddhart/Stompers)
Tough Duck
Duray wool socks   ( Made in Canada)
Current promotions
Its Fall and once again we have a new gift with purchase program for purchases of WORKWEAR CLOTHING ( footwear excluded) . This season we have TOUGH DUCK/REDDHART INSULATED WATERPROOF LEATHER WORK GLOVES and the REDDHART REVERSIBLE TOQUES
Details as follows
Purchases over $100 ( after discounts) …..Reddhart Toque  ( retail $19.99 )
Purchases over $ 175 ( after discounts ) ….TOUGHDUCK/REDDHART  Gloves  ( retail $ 29.99 )
Purchases over $250 ( after discounts )…Toque plus Gloves
available through the Fall while stock lasts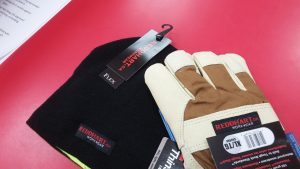 PLUS !
Carhartt clothing…always at unbeatable prices
See our coupons in the ADMAZING book
Orthopedics
If you need orthopedics beyond what are available in our high quality over-the-counter products that we carry, then we suggest you contact Advanced Orthopedic Systems at   http://www.advancedorthopedic.ca/   Advanced Orthopedic Systems