MOVING DAY !!!!!!!
Our new store ( next door, in Bays 1 and 2 ) is almost ready and we will be CLOSED December 27/28th for the move. Please accept our apologies for any inconvenience.  When we reopen in the next door unit, RIGHT ON THE CORNER, we will have a store twice the size ,and with the greatest selection of CARHARTT in southern Alberta.
There will be a special CLEARANCE SALE on end of line and discontinued CSA boots ( including RedWings) , and also on some clearance Carhartt items. Selection is limited, so visit as soon as you can……starting now!
Hours of business
Monday – Wednesday 9am to 6pm
Thursday – Friday 9am to 8pm
Saturday – 9am to 6pm
Sunday – 11am to 5pm
Statutory Holidays – 11am to 5pm
Closed: Victoria Day, Canada Day, Civic Holiday, Labor Day, Thanksgiving, Christmas Eve,Christmas Day, Boxing Day and New Year Day.
New Years Eve is early closing at 3:00 PM.
Store personnel
Store Manager – Damien
Assistant Manager-Shyla
Sales Associate-Shawn
Sales Associate-Jozie
This location sells
KEEN
VIBERG/VIBERG and REDDHART "STOMPERS"
CANADA WEST   ( Made in Canada )
ROYER ( Made In Canada)
LEGACY BOOTS from Red Wing "HERITAGE" , and Wm MOORBY,
Carhartt (always at the best prices)
Blundstones
Muck
Mellowwalk
Tough Duck
Wolverine
Red Wing
Current promotions
Its Fall and once again we have a new gift with purchase program for purchases of WORKWEAR CLOTHING ( footwear excluded) . This season we have TOUGH DUCK/REDDHART INSULATED WATERPROOF LEATHER WORK GLOVES and the REDDHART REVERSIBLE TOQUES
Details as follows
Purchases over $100 ( after discounts) …..Reddhart Toque  ( retail $19.99 )
Purchases over $ 175 ( after discounts ) ….TOUGHDUCK/REDDHART  Gloves ( retail $ 29.99 )
Purchases over $250 ( after discounts )…Toque plus Gloves
available through the Fall while stock lasts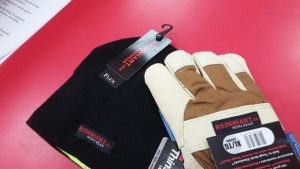 PLUS !
In the back half of the store, we carry a huge selection of Carhartt clothing…always at unbeatable prices
Look for our coupon in the  ADMAZING book
We always have a selection of discontinued and clearance items that are priced at 50% off regular prices. Selection changes constantly, so stop in regularly to hunt for the best deals…especially if you have extra large or small sizing, we often have great deals for you.
Notes