#320 9737 MacLeod Trail South
Calgary Alberta T2J 0P6
UPDATE ON RE-OPENING
We are currently planning on re-opening this location Wednesday April 29th 2020
It will be on a Wednesday to Sunday basis, closed Mondays and Tuesdays. 
Thank you all for your patience and support, but we are glad to be part of the "Great Re-Opening" 
We will be continuing to maintain safety Protocols and for enhanced safety, staff will be wearing masks during customer interactions….we would very much appreciate if you could do the same when coming into the store. Thanks everyone !….looking forward to seeing you again.
Hours of business—REVISED!!!
Wednesday – Friday    11am to 6pm
Saturday                       10am to 6pm
Sunday                          11am to 5pm
Monday-Tuesday          Closed
Statutory Holidays        11am to 5pm
Closed: Easter Sunday,Victoria Day, Canada Day, Civic Holiday, Labor Day, Thanksgiving, Christmas Day, Boxing Day and New Year Day.
Xmas Eve & New Year Eve are early closed at 4:00 PM.
Store personnel
Team Leader – Annette
Team Leader – Afrah
This location sells
KEEN   ( CSA and soft toe sandals and hikers)
Canada West
Heritage style Collections from Red Wing HERITAGE , and Wm Moorby,
CARHARTT (always at the best prices)
BLUNDSTONE
ROYER
VIBERG  ( Reddhart/Stompers)
Mellowwalk


Current promotions
Its Fall and once again we have a new gift with purchase program for purchases of WORKWEAR CLOTHING ( footwear excluded) . This season we have TOUGH DUCK/REDDHART INSULATED WATERPROOF LEATHER WORK GLOVES and the REDDHART REVERSIBLE TOQUES
Details as follows
Purchases over $100 ( after discounts) …..Reddhart Toque  ( retail $19.99 )
Purchases over $ 175 ( after discounts ) ….TOUGHDUCK/REDDHART  Gloves  ( retail $ 29.99 )
Purchases over $250 ( after discounts )…Toque plus Gloves
available through the Fall while stock lasts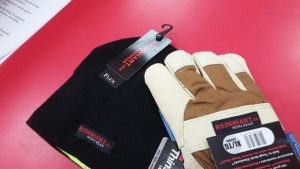 PLUS !
Carhartt clothing…always at unbeatable prices
Look for our coupon in the ADMAZING book
We always have a selection of discontinued and clearance items that are priced at 50% off regular prices. Selection changes constantly, so stop in regularly to hunt for the best deals…especially if you have extra large or small sizing, we often have great deals for you.
Notes
SKYPE    call us or video chat with us on Skype at  "ReddhartCalgarySouth"
Cant make it to the store?  Call or email us and we will arrange to ship your boots or workwear direct to your home or work. Free shipping to most parts of Canada on orders over $100